About
Alessandro Belotto was born in Rome. He graduated in piano at the Conservatoire 'Santa Cecilia' in Rome under Maddalena Avignoni and studied further under Sergio Di Giacomo. He also studied musicology at University 'La Sapienza' in Rome and organ and composition with Valentino Miserachs. 
Alessandro has given regular concerts in Rome and other Italian cities. He participated to a long list of young musician festivals, as pianist and organist. His recitals often included a program of russian composers, as Rachmaninov, Scriabin and Prokofiev.
He has performed several times in Lebanon: at the Kaslik University in Junieh, at the American University and at the Church of St. Elie in Beirut.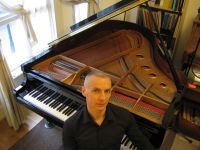 In the UK, between the various piano recitals in London, he has played at the Italian Cultural Institute in Belgravia, at  St. Pancras Church (Euston) and at St. Olave's Church  (Tower Hill).   He has also performed in chamber ensambles and accompanied singers and choirs. 
Based in London, he combines performing with a successful piano teaching career.
Alessandro recorded two piano music CDs.